Real Estate Vocabulary
Real Estate Vocabulary everyone should know when Buying or Selling a Home!
Once you enter the world of real estate whether you're buying, selling, or renting a home some new terms get thrown your way. So let's face it, there are some words that have you scratching your head, and those are the most important once to know! Here's a few definitions for you to get caught up and prepared!
Net Sheet: What is the amount of money you are taking home to the bank after all of the fees and closing costs are done? The net sheet outlines these costs and amount for you whether you are the buyer or the seller. A net sheet should be one of the first items you review when discussing selling price or buying price.
Contingencies: When you put in an offer on a home, certain specifications for conditions that must be met before the deal will go through can be set. Typical contingencies include loan contingency (getting a satisfactory loan for the home), appraisal contingency (is the home worth what I'm paying?), and inspection contingency (does the home inspection satisfy the buyer?). There are several other types of contingencies.
Escrow: A third party that is in charge of holding onto all funds and facilitates the terms of the contract. The escrow can only be completed or "closed" when all of the obligations have been met.
Earnest Money Deposit: This is the initial deposit you give to the escrow company to show that you are a serious buyer. A larger deposit usually signifies that you are a more serious buyer. These deposits are given back to the buyer if they walk away from the sale within their contingency timeframe.
Pre-Approved: When you allow a lender to issue you a letter stating based on information provided that their bank will conditionally pre approve you for a certain loan amount.
Buyer's Agent vs. Listing Agent: These two agents are present when you buy a home. The "buyer's agent" represent you (the buyer) and the "listing agent" represents the home seller.
Fixed Rate vs. Adjustable Rate Mortgages: A fixed rate mortgage has a predetermined interest rate throughout the life of a loan and an adjustable rate mortgage has a variable interest rate. A fixed rate mortgage usually lasts about 30 years compared to 5, 7, or 10 years for an adjustable rate mortgage.
Pre-Approval Letter: The pre-approval letter is given to you by the bank when you apply for a mortgage. This letter will help you determine what you can afford and ensures the home sellers that you will be able to get a loan when needed.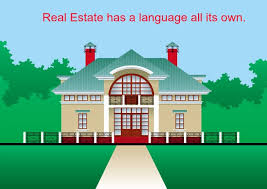 Listings: listings simply refers to homes for sale in fancy real estate talk.
Inspection: After an offer on a home is made you will want to get a home inspection in which an inspector will review every nook and cranny, electrical work, plumbing systems, foundation, heating, and appliances.
Appraisal: When applying for a mortgage, your lender will require an appraisal of the home you want to buy. The appraisal will estimate the home's value based on comparable homes that have sold in the area and a review of the property.
Closing Costs: There are a lot of fees involved when you purchase a home. Typically, closing costs amount to 2-5% of the purchase price of the home. Common fees include excise tax, loan-processing costs and title insurance.
Title Insurance: Title insurance is usually part of the closing costs. The insurers search public record to verify that the home seller has rights to the title and that the home has no liens (unpaid contractors or taxes).
Hope all of these vocabulary words helped get you up to speed! If you are looking for any additional real estate needs don't hesitate contact us here!
Author:
Brian Cordova
Phone:
210-865-7653
Dated:
June 8th 2016
Views:
70
About Brian: Brian offers a wealth of knowledge when it comes to your real estate needs in San Antonio. Whether y...